There are different types of prescription lenses for your personal vision needs. The quality of the lenses, their characteristics and coatings all contribute to your satisfaction with the glasses. We will provide you with the most professional lens service.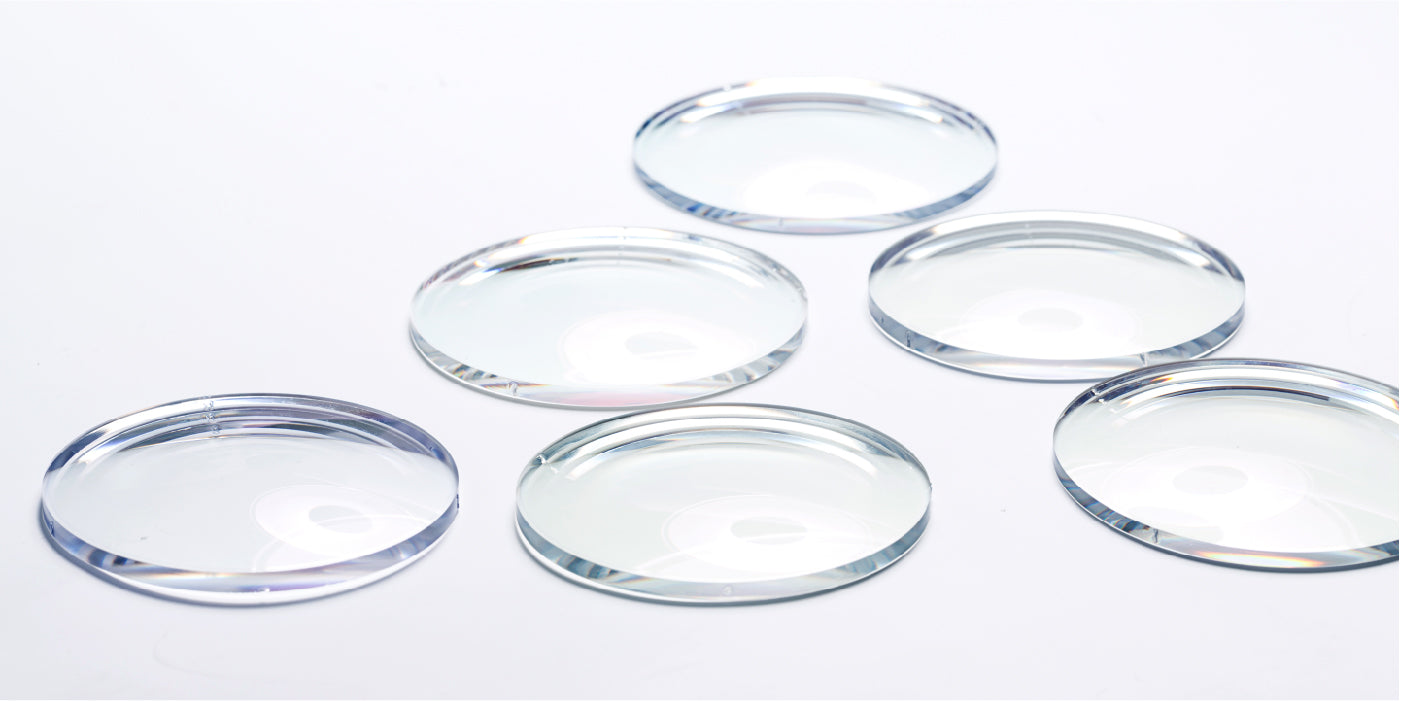 - Types Of Prescription Lenses -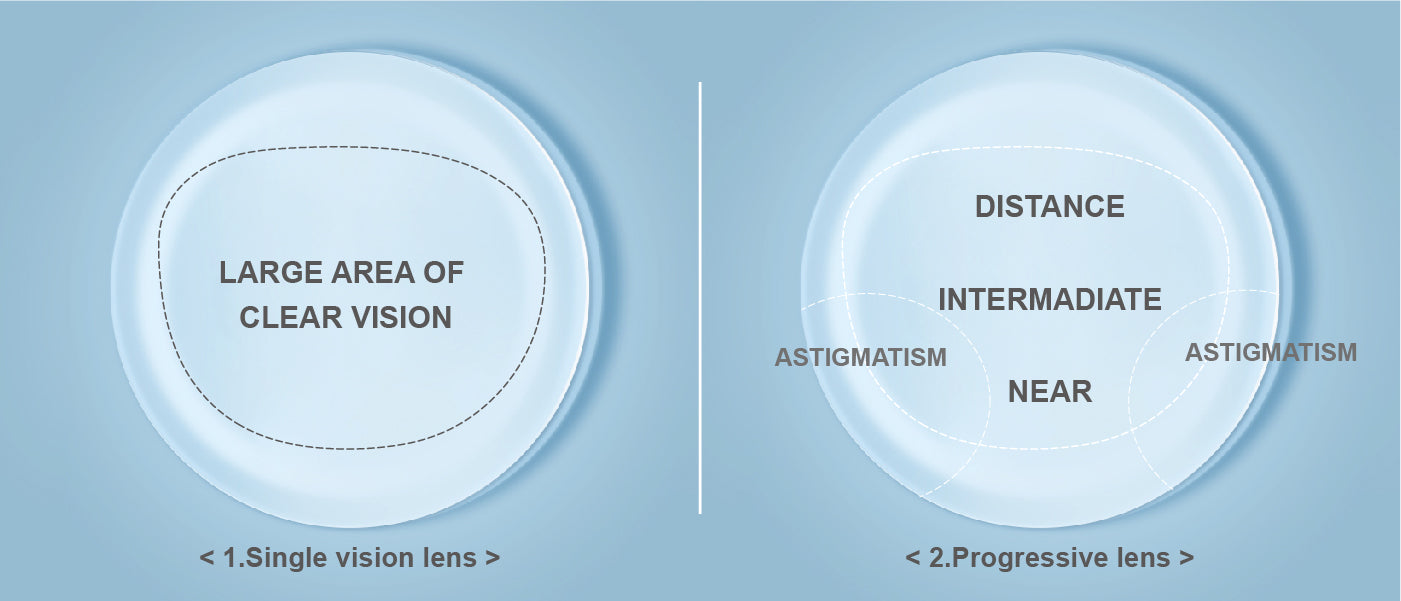 < 1.Single Vision Lens >
What are single vision lenses?
Single vision glasses have lenses with only one focal point. Glasses for nearsightedness and farsightedness, as well as reading glasses can all belong to this family. They have one focus point and can only correct for vision for a single distance.

What can single vision lenses do?
Single vision glasses are sufficient for basic vision needs. It cannot provide higher-level accommodations such as correcting for multiple distances, reducing fatigue, or controlling brightness.
< 2. Progressive Lens >
What are progressive lenses?
Progressive lenses, have multiple focal points. They have three main fields of vision to accommodate viewing at a distance, intermediate, and reading close up. They give a better optical effect, providing you with a better experience.


- LENS COATING -
1.Classic coating
These are transparent lenses many people wear from day to day and can be replaced with the help of an optometrist.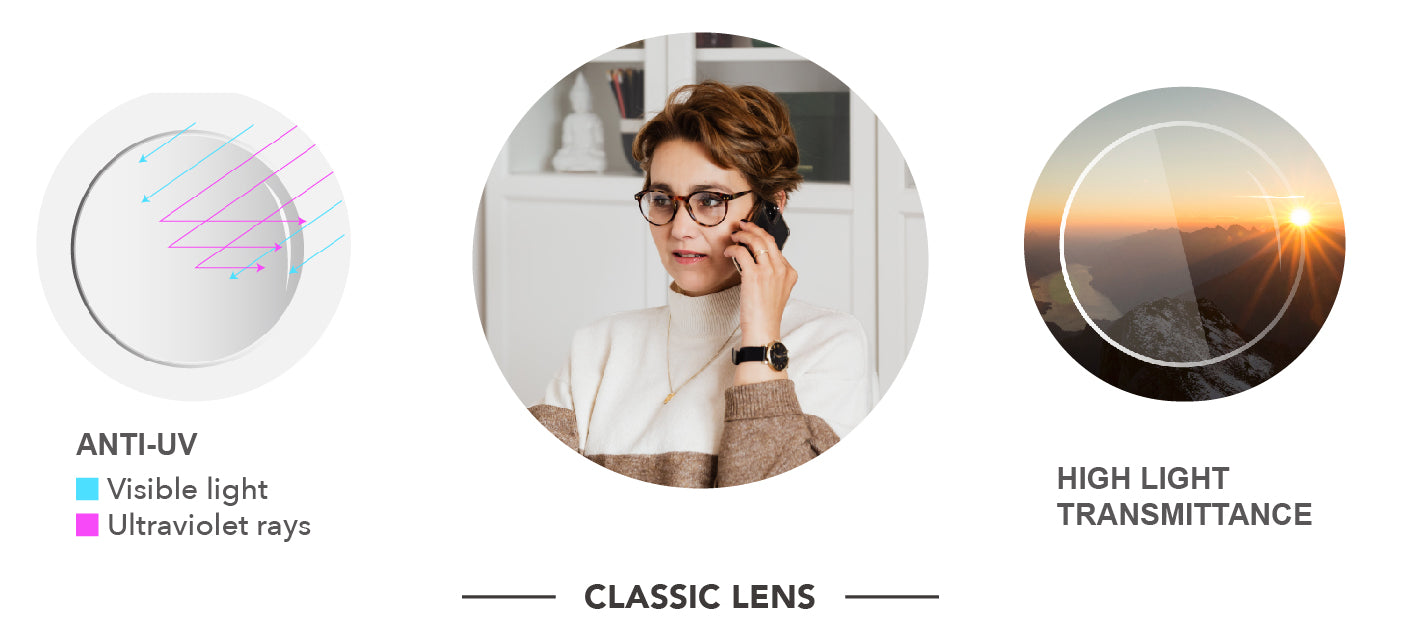 2.Blue Light Blocking Coating
Protect your eyes from the blue lights emitted by phones and computers.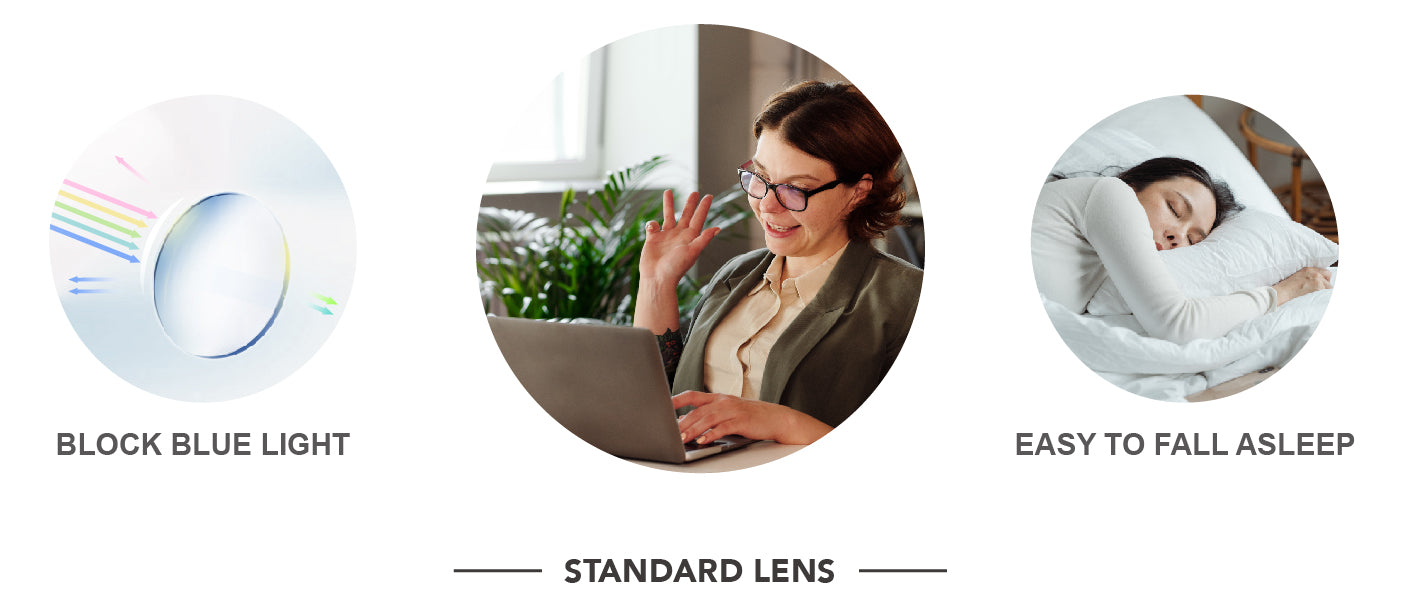 Do your eyes experience the following symptoms?
Why choose blue light blocking glasses?
Why choose our lens?

3.Light Responsive
The tone of the lens changes according to the amount of light around you.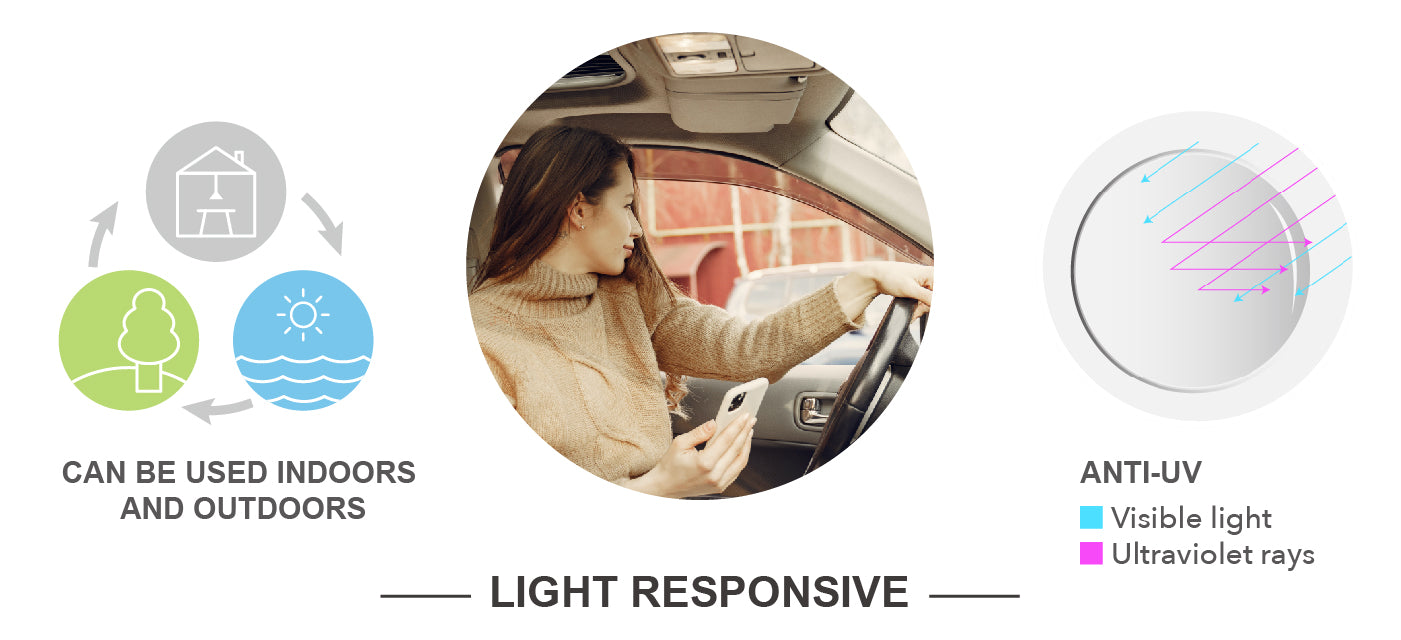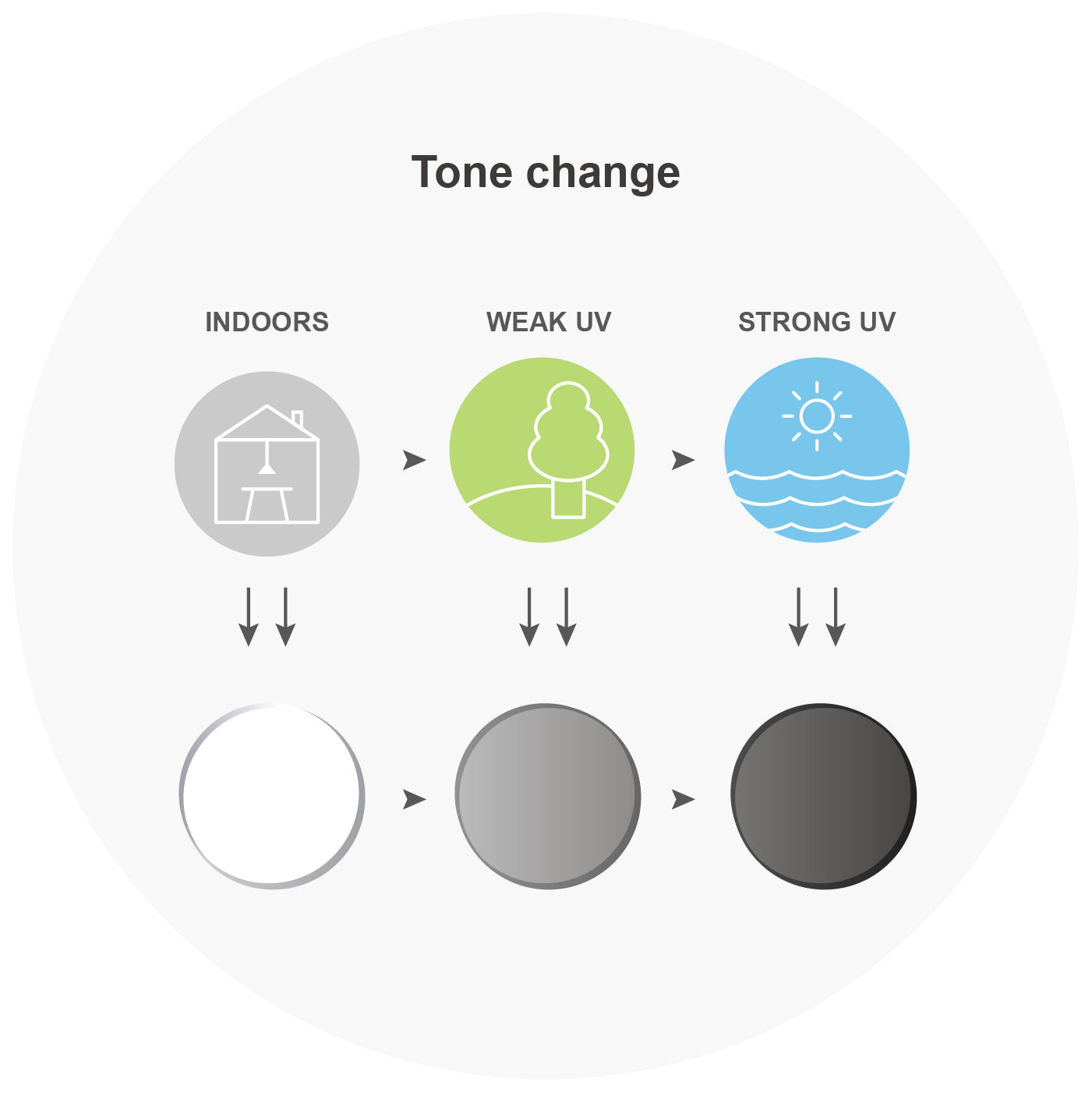 - LENS REFRACTIVE INDEX -
When you see numbers like 1.49, 1.56, 1.60, 1.67, 1.71, and 1.74 on the lens, they are referring to the refractive index of the lens.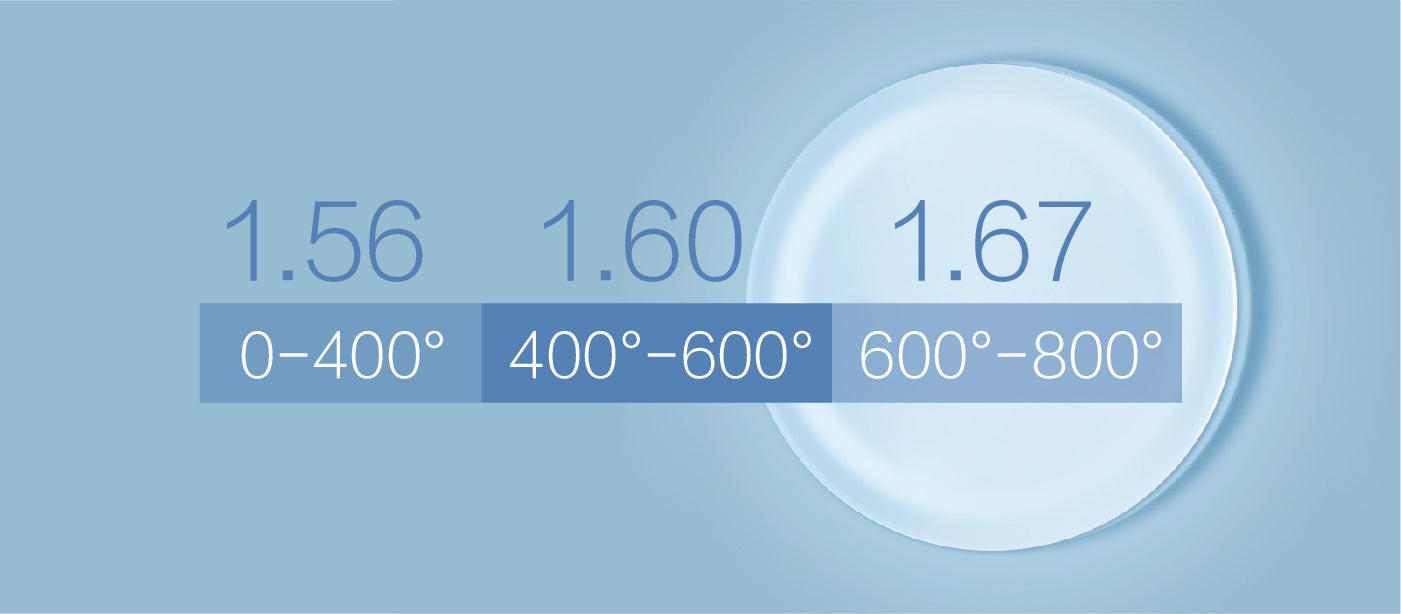 1. Does higher refractive index mean better the quality?
The quality of the lens depends on how it was made and the material. The refractive index does not influence the quality of the lens. 
2.Does higher the refractive index mean thinner lens?
The thickness of the lens is not only determined by the refractive index but also the size of the frame, the degree of astigmatism and the pupillary distance. 


"Designed and developed with careful consideration to comfort, state-of-the-art materials, aesthetics and stylish originality."

"Durable, incredibly lightweight, and foldable, the Flex sunglasses provide protection from the sun's rays while elevating summer looks."
"Made from stainless steel with a unique hinge design, they fold up small enough to pop into your pocket. They're available in fives styles and six colors, all with polarized sun protection".
MITSUI CHEMICAL
KNOW MORE ABOUT OUR LENSES
In our daily life, there are two kinds of harmful light which may ruin our eyes. The harmful light includes UV from nature and blue light from digital screens.
Computer screens and digital devices emit a lot of short-wavelength, high-energy blue light that passes through the front of the eye and reaches the retina which creates a wide range of health complications.
WHAT'S THE HARM OF BLUE LIGHT
Exposure to harmful blue light leads to blurred vision, eye fatigue, dry eye, eye strain and disrupted sleep cycle.
Relevant SDGS
Unlike the common blue light blocking lenses, we use advanced materials from Mitsui Chemical. Mitsui Chemical is a company that has innovative materials and attaches great importance to protecting our environment.
Lenses on our glasses are 30% lighter than normal lenses.
CLEAR LENSES
Zero color distortion, help to reduce digital eyestrain.
ANTI-SCRATCH
Easy to Clean. Our glasses will make your life much easier.